Ryn Hooligan has collaborated with other performers to create a range of duo, trio, and group acts. These are perfect for cabarets, vaudeville, and more.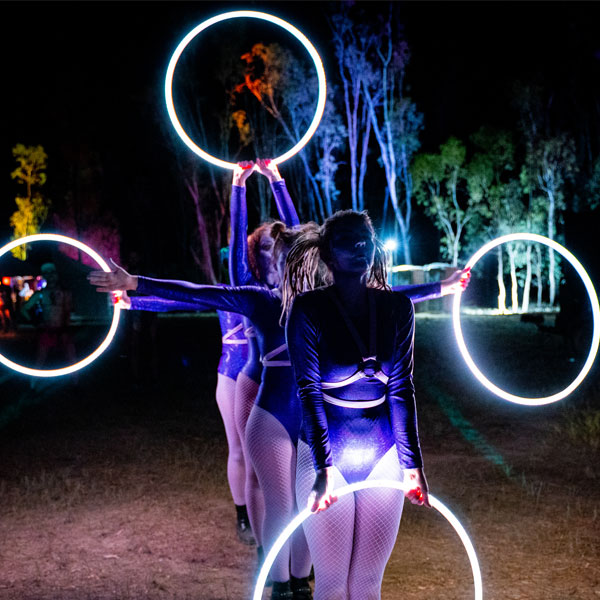 RUNNING TIME:
5 minutes
ROVING:
Minimum Booking 1 hour
PROPS:
LED Hula Hoops
PERFORMERS:
4
Otherworldly entities are crossing over into this dimension. They bring with them mesmerising portals of light and colour, transporting you back through the fabric of time and space. Encounters with these beings are possible only in darkness, where their illumination pierces through our horizon. What will encountering these beings mean? Their intentions are unknown.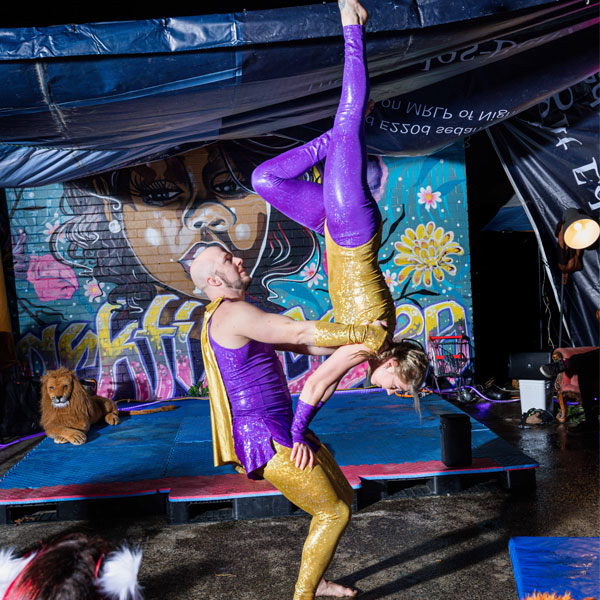 SPECTACULAR HEROES
RUNNING TIME:
5 minutes
PROPS:
Partner Acrobatics
PERFORMERS:
2
Rynja Ninja and Danger Boy! Performing awe-inspiring partner acrobatics this dynamic duo will make a strong impression on your guests. These superheroes are available to hire for both roving entertainment and stage shows.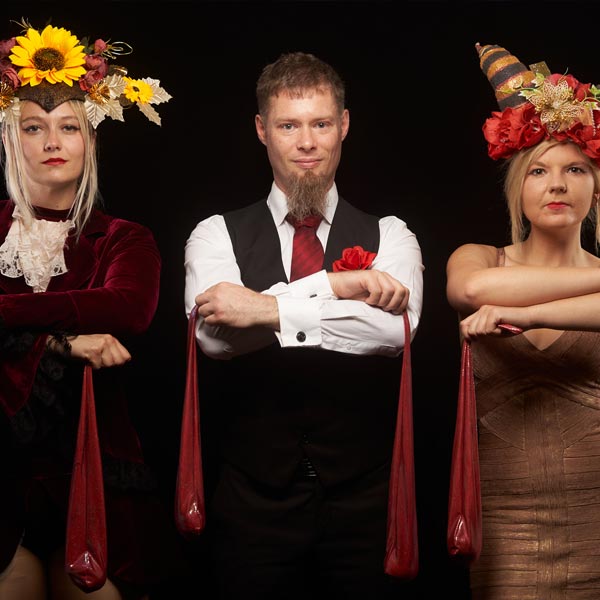 THREE'S A CROWD
RUNNING TIME: 5 – 15 minutes
PROPS: Fire Poi (also available with fire hoop, umbrella, rope dart, dragon staff, and lycopodium)
PERFORMERS: 3
This fiery trio have some surprises up their sleeves . Together Ryn, DaveOnFire and Emiline can perform multi prop fire shows featuring sets including dazzling partner and trio poi, fire umbrellas and lycopodium effects . This trio also have a new saucy fire poi act weaving fire poi around each other with musicality and a surprising story line. Due to event cancellations early 2020 this act is yet to be debuted. Maybe you can be the one?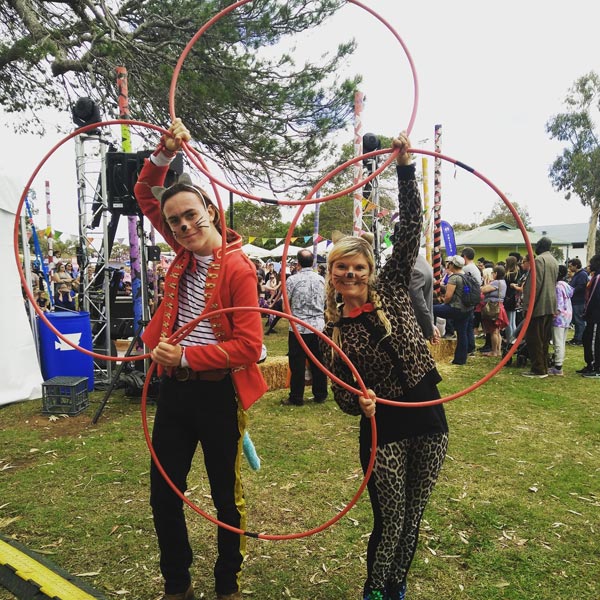 THE ELECTROCATZ!
RUNNING TIME: 3 minutes
PROPS: Lots of hula hoops
PERFORMERS: 4 – 10
A cat-tacular spectacular! It is well known that cats like to play with yarn… lesser known is that they also love to play with hula hoops! This charming family friendly act originated as a choreography for the Dream Big Family Circus Club and has been performed countless times by youth performers. Due to popular demand this act is available to be performed as a youth circus act or by adult performers for family friendly events.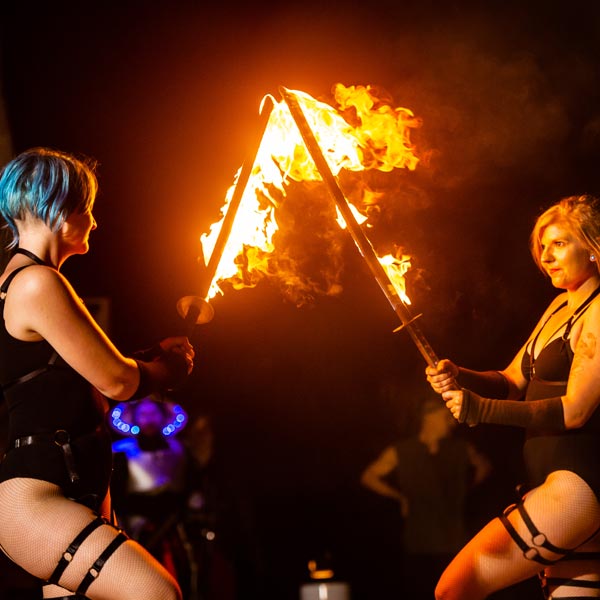 INTERGALACTIC
RUNNING TIME: 9 minutes
PROPS: FIRE – palm candles, fire fans, fire swords
PERFORMERS: 2
Ryn Hooligan and Madeline English collaborated to create a seductive ambient fire act which debuted at Esoteric Festival. These fiery babes leave crowds astounded with their tight synchronised choreography and smoking costumes. This act is available as ambient fire entertainment (great alongside of DJs) but can be adapted to fit specific music.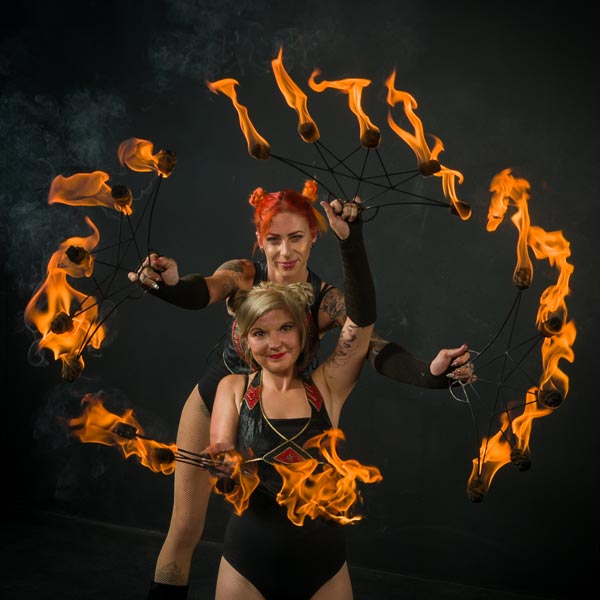 WILDFYRE
RUNNING TIME: 10 minutes
PROPS: FIRE belts and palms, dragon staff, hoop, fans, whip, lycopodium
PERFORMERS: 2
This red hot fire duo combines the talents of Scarlet Rose and Ryn Hooligan. Their 10 minute fire show features fire belts, solo dragon staff, duo fire hoop, solo fire whip and duo fire fans with a spectacular lycopodium finale. Their act was developed for ambient fire but can also be adapted to fit specific music. This duo's highlight has been performing alongside international music producer Clozee at Earth Frequency Festival.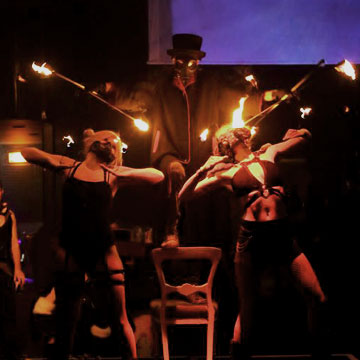 DR. DEFECTIVE AND THE DISASTROUS DROIDS
RUNNING TIME:
10 minutes
PROPS:
FIRE – palm candles, hoop, double staffs
PERFORMERS:
3
Looking for something dark and different for your event?
WARNING: Dr. Defective and the Disastrous Droids have escaped solitary confinement. They are not to be approached under any circumstances. Armed with chemical weaponry, these prisoners have suspected malfunctioning compliance chips and may lash out without warning or hesitation. This show unifies the collective talents of Ryn Hooligan, Izzy Sticks Performance & Emily Fantail. A 10 minute choreographed fire show suitable for indoor venues that can also be performed as roving characters and ambient entertainment.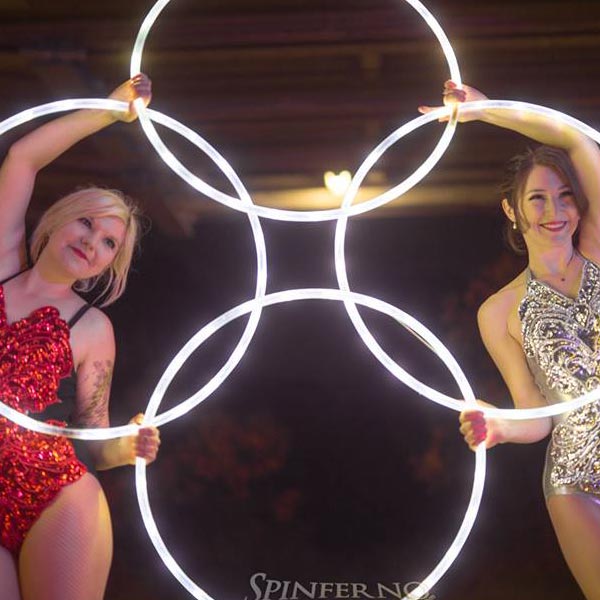 2 X 2
RUNNING TIME:
4 minutes
PROPS:
4 LED HOOPS
PERFORMERS:
2
A sassy quad LED hoop act that is suitable for corporate, stage, and community shows. Ryn Hooligan and Lucy Noonan have choreographed a stunning hoop performance with beautiful geometric symmetry.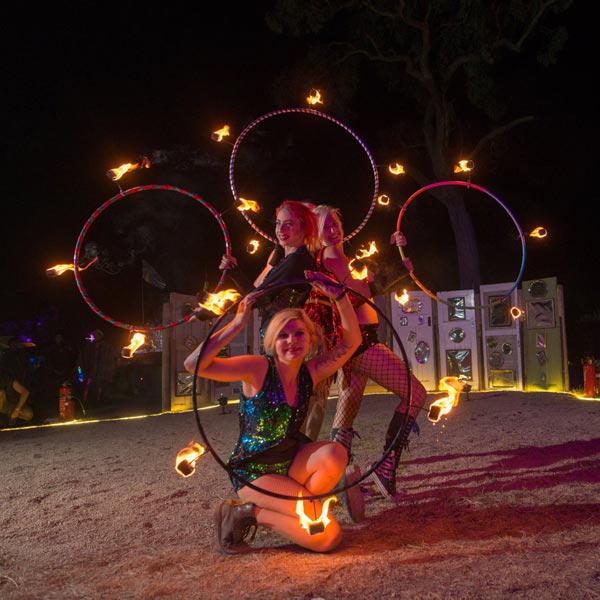 TETRAPYROSPARKLANOL
RUNNING TIME:
3 minutes
PROPS:
Fire Hoops
PERFORMERS:
4
Four lively sparkle adorned re hula hoopers perform an act that's fun, family-friendly, and fantastical.
WANT TO BOOK A GROUP ACT?